Gourmet marmalade & jam. Made in Los Angeles.
Copper Pan Jams is a call-out to jam lovers! Like a finely crafted wine, once you experience Copper Pan Jams, you will really appreciate their distinctive tastes and aromas.
We offer a selection of jams made in small batches with top-quality local organic fruits, including strawberries, plums, pluots, apricots, nectarines, oranges and lemons.
These fine jams are excellent for baking and taste wonderful in tea, on toast and pancakes, and eaten by the spoonful.
Copper Pan Jams is a gourmet marmalade and jam company founded by food artisan Bradley Allen.
His fiancé Perla creates cookies and other amazing baked goods made with Copper Pan Jams and publishes the recipes to our website for others to enjoy.
Follow @CopperPanJams on Instagram, Twitter, Facebook & Pinterest.
Get Your Jams!
Copper Pan Jams are available online and at various pop-up events throughout Los Angeles.
Think Local First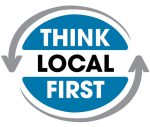 When you get your jams from Copper Pan Jams, you are supporting a local small business.