Your sweet tooth will be more than satisfied with these extraordinary cinnamon rolls. Apple jam oozes from the middle of these fluffy rolls which are frosted with an irresistible glaze.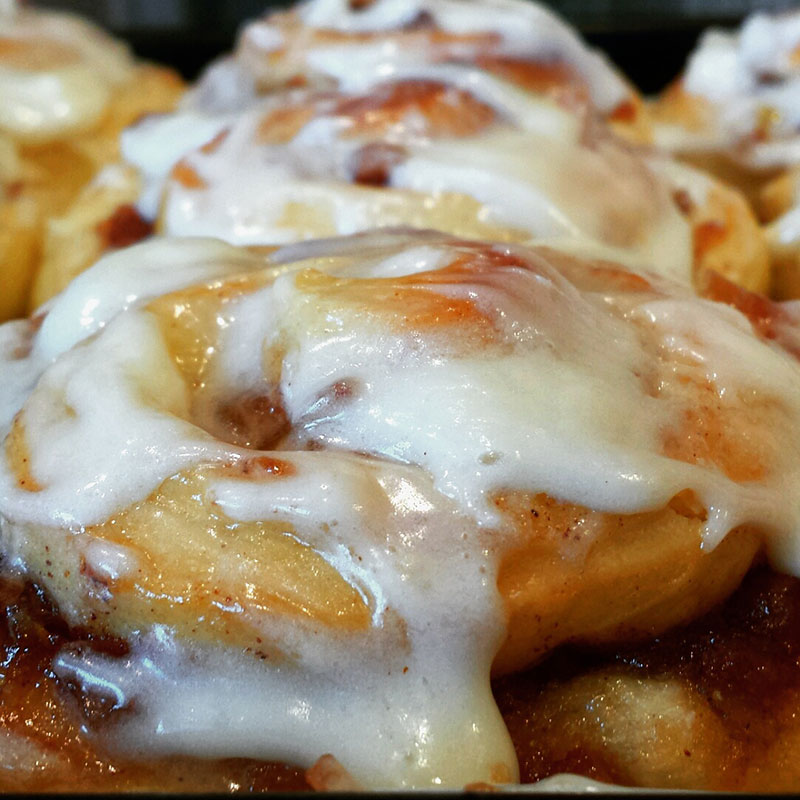 Apple Jam Cinnamon Rolls
DOUGH
1/4 ounce active dry yeast
1 cup warm milk (check yeast package info for recommended temp)
1/2 cup granulated sugar
1/3 cup unsalted butter, softened
1 teaspoon kosher salt
2 eggs
4 cups all-­purpose flour
FILLING
1/4 cup unsalted butter, softened
8 ounces Apple Jam by Copper Pan Jams
1/3 cup brown sugar, not packed
dash cinnamon for sprinkling
FROSTING
1/2 cup unsalted butter, softened
1 cup powdered sugar
1/4 cup cream cheese, softened
1/2 teaspoon vanilla extract
1/8 teaspoon kosher salt
Directions
Dissolve the yeast in the warm milk in a large bowl. Add sugar and 1 cup of the flour. Stir gently, cover and set aside to rise until double in size (30­-45 minutes).
In standing mixer bowl with dough hook attachment: add butter, salt, eggs, remaining 3 cups of flour. Mix well, until the dough pulls together away from the sides of the bowl.. If you don't have a dough hook attachment, you can mix by hand with a spatula or wooden spoon.
Turn the dough out onto a lightly floured surface and knead about 3­-5 minutes. Dough will be slightly sticky. Sprinkle flour over the top of the dough to keep it from sticking too much to your hands.
Grease the mixer bowl with butter and place the dough back in. Cover with a clean towel and let rise in a warm place until the dough has doubled in size (about 1 hour).
Punch dough down and roll out on a lightly floured surface into a rectangular shape.
Filling time: Spread the softened butter over the surface of the dough, followed by the apple jam. Using your hands, scatter brown sugar evenly over the top of the apple jam. Sprinkle cinnamon over the brown sugar.
Working carefully from the long edge, roll the dough into a cylinder. Make sure the seam-­side is down when done rolling.
Cut the dough into thick even slices, and place on a cookie sheet lined with parchment paper. Depending on the thickness of the slice, you could have 12­-20 rolls.
Let rise until almost double in size, about 30 minutes. If not baking immediately, you can cover with plastic wrap and refrigerate overnight. Allow the dough to return to room temperature before baking.
Bake at 375 F for 20­-25 minutes or until just golden. I recommend checking them at 20 minutes, especially if they've been in the fridge overnight.
Combine the icing ingredients while the rolls are baking. Beat well with an electric mixer until smooth and fluffy.
Spread the icing generously over the cinnamon rolls while they're still warm from the oven.
Yield: 12 rolls
Total time: 3 hr (includes rising)